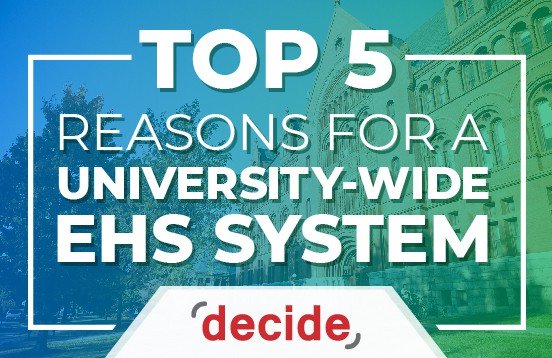 University EHS programs have proven a key component to building a world class university.  Managing materials inventory and compliance, ensuring faculty and student safety and tracking corrective actions are a must.  But, a lot of EHS departments have difficulty in convincing administrators for the need of a university wide EHS system.
Justifying the investment in an EHS system can be difficult. Here's a checklist of the top 5 signs your university needs to invest in EHS software for better environmental, health, and safety management.
EHS incidents are costly.
Costs related to safety usually manifest themselves in claims and fines. Preventing accidents can also mitigate costly legal fees.  Lowering the number of incidents can also lower insurance and healthcare premiums.
You're having difficulty tracking EHS returns on investment.
EHS departments work to manage university risk and compliance.  But, there is cost associated with that.  Consider the average salary of EHS staff allocated to spend time entering data, consolidating data, producing reports for EHS, and looking through old data and figures.  When an automated solution is in place, departments can spend time on valuable work outside of data management and report production.  Implementing an appropriate EHS management program will help you quantify your spending and provide the data needed to analyze your return.
You have no EHS contingencies in place.
Without EHS contingencies, a university will have a hard time improving best practices. The idea of a contingency plan is to formalize the standard operating procedure in the case of an incident occurring. This makes the response time faster and ensures that EHS incidents are handled in the most effective and timely manner possible. Having a standardized procedure will also help make future improvements to the contingency plan.
Read More: Three EHS KPIs That You Are Probably Not Tracking >>
Read More: The ROI on EHS Systems is Better Than You Think >>
Read More: Top 10 Problems EHS organizations have with Software >>
Read More: Getting IT to buy in to your EHS software project >>
EHS processes are tedious and time-consuming.
When you don't have the ability to manage your EHS software program from a mobile device, processes can be halted periodically. Waiting for people to get back to their desks or access points slows down the entire process. If you're still using paper or spreadsheet-based processes to record incidents, perform audits and inspections, create dashboards, or do reports manually, chances are you're wasting time and effort.
University size makes EHS difficult to sustain.
When the size of a university or its projects reach a certain point, it becomes difficult, if not impossible, to maintain full control over EHS processes and data collection. EHS software programs have the ability to track data and automate processes so that the EHS strategy becomes scalable across departments and campuses.
Ensuring sustainability and workforce safety with software can make a major contribution to the success of an EHS department. Not only will it help prevent accidents amongst your faculty and students, but it will reduce your incident costs, improve the university's financials, and help you become more efficient.
Evaluating the ROI associated with running a university wide EHS program using the above cases proves that investing in EHS software is a value proposition for world class institutions.
Decide Consulting leverages their decades of experience to give you this analysis using our DecisionEHS package.  Find out more at DecisionEHS, or contact us at sales@decidesonsulting.com or call at (713) 203-6709.