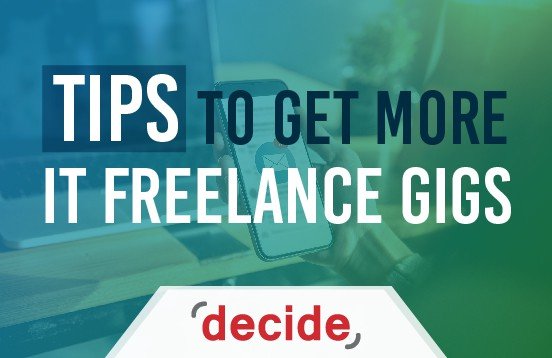 Considering that the IT field is growing by the day, getting the right project it isn't always easy. There is a lot of competition and most organizations looking for candidates want the crème de la crème. However, if you want to make it work and are motivated to get the desired results, then freelance work is a great opportunity for you to set out and maybe garner some experience as well as money, on the way. There plenty of projects and gigs out there, but are they the ones that enable you to develop your skill set and dollars? This article focuses on tips to position yourself for getting the best IT freelance gigs.
Once you start freelancing, you will get to find out that securing the right freelance gig isn't really that easy. The market is saturated, and while there is a lot of work to be done, the candidates are many. So, as an aspiring IT freelancer what can you do in this crowd of opportunities and competition? For starters, try following the tips that we have mentioned here.
Be up on Multiple Social Media
Your digital footprint online and your presence on different social media platforms is what might set you apart here. Many people think that creating a LinkedIn account is all they need to do to land a freelance gig, but as much as we talk about LinkedIn becoming your online résumé, employers do hover around on other social media sites as well. So, if you have something running across different social media platforms like Twitter, Facebook or even Instagram, then you may amplify your chances of stretching your reach and landing a good gig.
Moreover, while you're at it, try getting in touch with influencers on these social media applications. Getting linked with influencers can help push your chances of landing a gig forward. Get to know people who have the opportunities with them, and try getting noticed by them through the means of these social media platforms.
Your Photo
While your work should speak for itself, the photo you have up on many different social media platforms should make you look the part. Employers won't really agree to it, but they do have an eye out to check how professional your photo looks, and whether they can trust you with an urgent project for instance. Now, we're not saying that a good photo will land you an immediate gig, but it can counter the impression that a bad photo might set. An unprofessional photo or description can make you lose out on possible opportunities on any platform.
List your Key Skills
Your skills aren't really worth anything if you don't let future clients know about them. Let everyone going through your profile know what you're capable off, so that the right impression is set. A good description that highlights your skills can go a long way in getting you the freelance gigs you need. For instance, even if someone isn't in need of some freelancing work to be done for them immediately, they would keep your profile in mind for later, if you are able to successfully highlight all your skills in front of them.
The content you have on your social media platform plays an even better role here. Clients don't like going through a long list of candidates, which is why they use keywords to shorten the search list. Knowing this, it is up to you to get the desired attention to your profile by using the right keywords. If you work as a front end developer then remember to write a word or two about your skills in HTML5 and CSS3. Employers looking for people with experience in these particular aspects would definitely come up to you with opportunities if you mention these keywords. Moreover, if you are working with new technologies, then do remember to mention them as well in your area of expertise. This would let clients know that you're keeping yourself updated and are learning new things every day.
Make it Personal
Should you limit your social media endeavors to just searching for a freelance gig? No. It is important that you highlight important parts and ceremonies from your life as well. Share pictures of what you're doing daily, share pictures of that new cinema you visited, let everyone know about that new eatery you tried out and share pictures of that mountain you trekked. Let the world know all that is interesting about you and be as social and active as possible.
Show Some of your Work
Samples are really important when it comes to working as a freelancer. No client would want to work with someone who doesn't have a strong list of professionally held positions. So, if you have worked on projects, put code samples on GitHub. Once people know what you have been working on, and that the quality of your work is trustable, they will be ready to start working with you.
Make Communication Easier
Make it easy for all clients to reach out to you. Choose a mode of communication that you know you are available on at all times of the day and can promptly reply to any queries. If you check your email regularly, then linking your social media to your email is a good choice. However, if you feel that you aren't active on your email at all times then have a cell phone number mentioned. Make sure that there aren't any barriers to communication, so that no project is lost because the client couldn't get in touch with you.
Start a Webpage
Starting your webpage can initiate your success as a freelancer. There are many CMS tools present out there to help you get started. Make use of any one of these tools and create a website that pulls clients towards you. Remember, your website should be linked to your GitHub and social media accounts. Also, mention your résumé on the website to provide an easy way for clients to get to know you better in one platform.
Finding gigs as an IT freelancer isn't easy, but with the right attitude and the right tactics, you can surely get the attention of clients towards you.
Decide Consulting provides IT staffing services. Our conclusive hiring methodology enables us to bring the best IT problem solvers to your organization. Our entire management team comes from an IT technical background giving us a unique perspective on candidates and the industry.