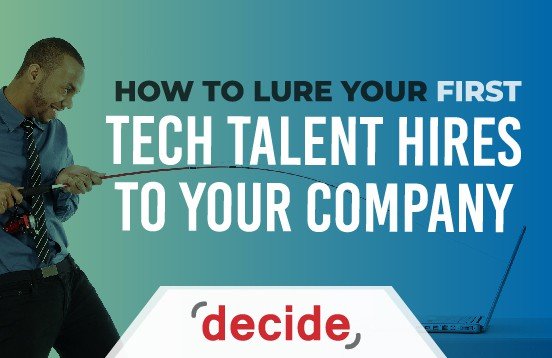 With the advent of digital business platforms, hiring IT and tech talent has become a necessity for the corporate world. As it turns out, hiring such a talent is not as easy as one might expect it to be. Finding and hiring a software engineer, DevOps engineer, data scientist, or web developer that will suit the interests of your company becomes very hard if your business is just starting or is an SMB.
Today, SMBs need tech talent that can become their greatest asset and give them an edge over their competitors. In a competitive world like ours, finding the right tech talent at the right time is the key to success everyone is after. Thus, when it's time to fill in the vacancies opened for extremely important technological roles, it gets pretty tough for Human Resources team. They know tech talent has the potential to lead a company on the road to success. And it's not easy to find tech talent.
Here's what SMB owners usually complain when asked about hiring tech talent:
Tech talent demands large sums of money even if they have an experience of only a few years.
The ones that come with reasonable experience quote a price that we cannot afford.
We run ad campaigns on social media platforms but nobody experienced and talented applies for the job.
The people we hire are just interested in rewriting everything. It's like they have nothing new, innovative, and diverse to offer.
So why is it so unnervingly difficult to hire tech talent these days?
Read More: How to Keep and Attract the Top Tech Talent >>
Read More: These 5 IT hires can cost you over a Million Dollars >>
Read More: Tips to Help You Attract and Retain Tech Talent >>
Read More: Do you want your next IT Hire to be Dak Prescott or Brock Osweiler >>
For starters, IT is a competitive field. The demand for tech experts remains constantly high in the job market. If your company is able to attract the attention of a few tech experts, consider yourself lucky as these ones weren't snatched by other companies before you. Since IT techs know their worth, they end up demanding salaries that you are not willing to offer.
But the point we're trying to make in this article is that hiring tech talent doesn't have to be so challenging and unimaginably hard.
So what needs to be done?
To say that you need to focus on making your company attractive enough to make people want to work there would be to scratch the surface of this problem, which is turning into a predicament with time. In this article, we'll try to get to the bottom of this problem and offer you some effective strategies to lure in tech talent. So let's get started.
1- Sell the Culture of Your Company
The best tool a company has to attract and retain an employee is its culture. It's enough to change an employee's mind and it's powerful enough to influence a prospective employee's decision. You need to understand that IT is a field that gets updated and moderated with time. What you need to make a part of your company culture is the willingness to adopt innovation and new technology. Believe it or not, it's a huge selling point that can convince qualified tech talent seeking continuous growth and development opportunities. Besides that, business owners need to invest in their work environment by making it more fun, engaging, challenging, and growth-oriented.

2- Always Focus on Your Needs
SMB owners must streamline what they need, not want. If they are confident about what technical skills they are looking for, only then they would be able to relay their ideas to the tech talent they want to hire. This would lead to the creation of a clearer job description that is not just limited to a list of responsibilities that you want a tech expert to take care of. It would also include required skills, details of the software your company uses, and description of the teams the person will be working with. This would help the tech talent you're trying to welcome aboard understand his or her job clearly and make an informed decision.
3- The Use of Technology
This is not the day and age where you give rigid commands to your employees. Similarly, modern tech talent also needs some space and liberty to innovate things for the better. Business owners and companies need to understand this. Allow the tech talent to experiment with new technology and work on different projects. This always sounds like a great perk to IT people because they like to work with what's latest out there in technology.
Whether tech talent wants to work with your company or not also depends on what technology you're into currently. According to Eric Flynn, Chief People Officer at Optimizely, brilliant technology brings in brilliant tech talent. And it's true!
4- Emphasize Your Values and Employee Perks
When it comes to hiring tech talent, SMB owners must understand that they're competing against large established corporations that might have better and more advanced resources. So how can you beat them by hiring the tech talent they might be after? You can do that by standing out in small unique ways. For instance, you can highlight the benefits and perks that come along with the basic salary, like flexible work schedules and regular social events. Maintain blogs about your company events, teamwork, and work environment and showcase unique attributes of your company. This would cultivate an impression of your company on potential employees. Make sure you clearly establish what your company cares about, what it values in employees, and why candidates should choose to work there. In short, emphasize all those things that set you apart from your competitors and live up to them.
5- Offer to Send Tech Talent on Training
One of the things that tech talent looks for in jobs today is opportunity for growth and development. SMB owners must understand that tech talent wants to keep up with the continuing advancements in IT. For that, SMB owners can offer to send their tech workforce for advanced training sessions.
6- Act Fast When You Find Someone
The demand for tech talent is moving at a pace faster than the speed at which HR teams work. HR professionals must realize that it only takes a delayed response after the final interview to lose a tech expert the company was interested in hiring. Thus, HR teams need to act fact when they think they have found the right candidate.
These six techniques are top priority strategies that should help you lure in some equality tech talent out there in the market. If you're a small company, then try getting yourself noticed by branding your company. You can seek the services of marketing experts who can create your company's awareness in the market, and give its brand voice a more passionate feel. It's necessary to invest in marketing efforts if you want to steal the best tech talent right under the noses of the giants in your industry.
In the end, when your efforts bear fruits, remember, the demand for tech talent is always high. Make them an offer they can't resist and don't let them get away!
Are you finding it harder to locate the good technical and IT talent? Many companies find them selves in the same situation. There are some better ways to locate and attract the right it and technical people to your company. Contact us to learn more.