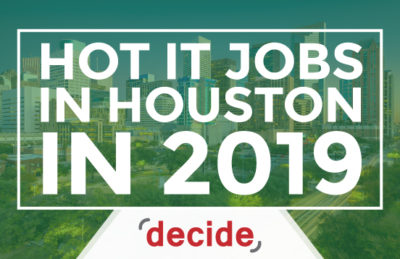 As a fresh graduate, planning a career can be daunting but also very, very exciting. For a computer science degree holder, setting foot in a booming job market is a journey filled with prospects and opportunities.
Whether you want to implement your recently learned Java skills, play around with codes and build web-based applications, or become a professional cyber-security engineer, here are the hottest IT jobs in 2019 for a promising and successful career.
1.    Cyber-Security Engineer
As the name goes, a cyber-security engineer works on the front lines of a company or government organization. Their primary role is to define security protocols by liaising with other departments of the company in order to secure the information technology systems. They're also responsible for detecting and eliminating any common coding vulnerabilities after thoroughly examining computer code bases.
Knowing how to install and configure security applications along with carefully engineering the security hardware to protect critical IT system is important as well. You will be expected to be skilled in many technologies and rules including the OWASP (Open Web Applications Security Project) top ten vulnerabilities, any of the five information security certifications like CISM or CISSP, and be equipped with an understanding of the Open Systems Interconnection model.
Some companies may also ask you to attain a Public Trust security clearance and knowledge of DoD Risk Management Framework. Lastly, since cybersecurity engineers deal with sensitive data, you might have to go through a rigorous background security check to be able to qualify for the position.
2.    .NET Full Stack Developer
.NET Framework has been developed by Microsoft as a programming infrastructure to build, test, and run applications and services. A .Net developer, therefore, should be proficient in programming languages like C# or/and VB.NET to produce codes.
As a professional, you should have the right skills and knowledge to handle such a powerful and adaptable software framework. Your responsibilities will include upgrading, debugging, and configuring the existing systems of your company, producing codes, and assisting with any technical support needed for desktop, web-based, or Android applications.
A proficient .Net developer will have to build applications from scratch, provide user support, and should handle multiple aspects of the applications like security, scalability, and testing. Familiarity with SQL server and the ASP .NET framework is necessary to know how to retrieve data.
The future of .NET developers is certainly high with more and more companies like Deloitte and Samsung increasingly searching for capable developers.
3.    Cloud Engineer
A cloud engineer is primarily responsible for all the technological tasks related to cloud computing, which includes planning, design, management, support, and maintenance. Companies who hire cloud engineers primarily need someone to transfer their data to cloud services and manage it from there.
They look for professionals who can help deepen their understanding of cloud technology. As an IT professional, a cloud engineer's position is a combination of several roles. There are three major types of cloud engineers – Cloud Developer, Solutions Architect, and System Operations Engineer.
Many job listings require at least 3-5 years of experience with cloud services like software development, open source technology, scripting languages, and system engineering. They should also know how to design web applications and services in the cloud.
Being familiar with programming languages like Python, Java, and Ruby helps them understand and manipulate data on the cloud platform. An added experience with Linux, OpenStack, Google compute engine, and Docker can help along with knowledge of APIs, DevOps, and NoSQL.
4.    Frontend Developer
A front-end developer produces CSS, HTML, and JavaScript either for a web application or website so that the end user can engage with it directly, without any need for interpretation. They create user-friendly web pages, improve and maintain client websites, and optimize web applications for greater speed.
Known for 'client-side development,' their primary work entails materializing a company's needs into innovative and interactive web applications. So, if you're curious about digital technologies and like writing user-friendly code, then you might have a chance in this profession.
You need to have proven work experience with markup languages as well as CSS, Javascript, and jQuery. You will also need design skills and experience in Photoshop, Adobe Suite, along with content management systems.
Liaising with back-end developers to improve a website or web application's usability while managing coding and troubleshooting will also be needed. Companies looking for front-end developers usually have a fast-paced corporate environment, so you need to stay updated with the latest technologies as well.
5.    Scrum Master
A scrum master is a team leader that supervises a scrum team and ensures that that the team follows agile values and processes that they initially agreed on. Also known as a team coach or an agile coach, the position requires you to clear obstacles for your team, maintain a productive relation between the product owner and your team, and eliminate any distractions that could disrupt your team's efficiency.
A scrum master's experience ranges across different levels, which are:
Although scrum masters are not an authoritative position, people who do fill in this role are mostly influential and charismatic. They have to manage team dynamics, resolve issues, ensure successful deliverables, and improve agile collaboration.
Read More: Hot Job – .NET Developer >>
Read More: Hot Job – SDET >>
Read More: Hot Job – CISO >>
Read More: Hot Job – Data Scientist >>
6.    DevOps Engineer
DevOps is essentially a mechanism for software development, which mediates between developers and IT professionals. The position comprises lots of technologies for testing, developing, and deployment to create automated CICD pipelines. A DevOps Engineer is responsible for collaborating with developers and the IT staff in supervising code releases.
In most cases, DevOps Engineers have a strong liking for coding and scripting, which compels them to move onto development and explore their testing and deployment skills. You will be responsible for implementing all the integrations that your clients request, deploy the necessary fixes and updates, and assist your clients with level 2 technical support.
Coming up with design procedures for system maintenance and troubleshooting and developing software for internal back-end systems is a due responsibility of a DevOps engineer. Knowledge of Ruby or Python can be an added plus along with experience with SQL and crucial databases to manipulate data.
7.    CMS Engineer (PHP)
A Content management system is primarily a software application with a set of programs that are employed to manage and develop digital content. A CMS developer (PHP) therefore needs extensive experience in CSS, PHP/MySQL, SVN, and most importantly, CMS systems for efficient web content management.
They have to work directly with digital strategists, product managers, and various other teams to develop web apps, landing pages, and web sites along with private web properties like client portals and intranet systems. If you're planning to apply for this job, you need to have solid knowledge and experience of PHP framework and all the popular CMS systems like Drupal, WordPress, and Magento.
Multi-tasking, juggling between different projects, and rapidly adjusting to the business needs are necessary soft skills that will make you a successful developer. You should know how to write and deploy PHP applications, have experience in SQL, MongoDB, and database management systems. Exposure to CSS framework and MVC PHP frameworks will be needed to prove your content management skills. Any significant contributions to Open Source projects will be a plus in giving you a competitive advantage over other candidates!
8.    Data Scientist
A data scientist is someone who arranges, decodes, and makes value out of data. He/she retrieves information from crucial sources, studies, and analyzes data in order to understand the performance of a business. Through this information, a data scientist then moves onto building AI tools to automate crucial processes of the company.
They must process and analyze data collection and build models to address any potential business problems. Additionally, they also have to present all this information using powerful data visualization technologies.
Experience in statistical analysis and strong math skills are a must. You need to be equipped with agile critical thinking and problem-solving skills to be able to make the plethora of data in front of you valuable for a company. Working knowledge of data mining, in-depth understanding of machine learning, and experience with Python, SQL, and R are pre-requisites.
You should also have some familiarity with business intelligence tools like Tableau to be able to create intelligent business solutions. And above all, you need to hone excellent presentation skills to present all the information using data visualization techniques.
So, that wraps up the most popular jobs and IT skills in demand that will certainly help you land a successful career!

Are you finding it harder to locate the good technical and IT talent? Many companies find them selves in the same situation. There are some better ways to locate and attract the right it and technical people to your company. Contact us to learn more.