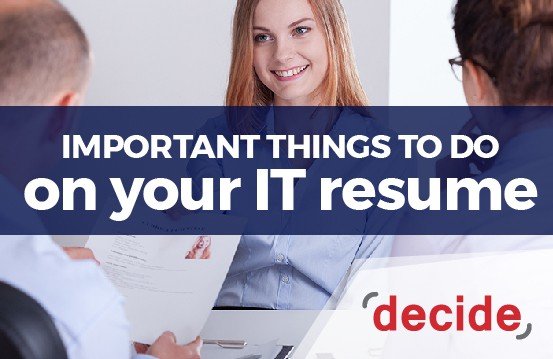 Even though the demand for IT professionals is increasing day by day, your resume will have a great impact on the kind of response you get from potential employers. Having a powerful resume will help you get the attention of the right employers and will help you land a job faster. This is why along with having the technical skills and experience, it is also important to create a resume that will impress the reader. In this article, we will explain some of the tips  and things to put on your resume to make it stand out so you can get that job offer.
1.      Length
The length of the resume is a controversial subject. While some people believe it is helpful to have a long resume stating all your history and skills, others believe it is futile to have a document that requires so much attention from the reader. For IT professionals, it is helpful to keep the resume limited to the experience gained in the last five years and try to keep the information well within two pages.
2.      Skills
When hiring IT professionals, employers are looking for the right skills, and hence it is the skills' section that will be the highlight of your resume. Whatever tools, programs, and technology that you have worked with needs to be mentioned in this section of the resume. It is also helpful if you divide the section into Hardware, Networking, Security, Languages and so on. This, however, is only beneficial if you have a vast experience.
3.      Certification
If you have relevant certifications mentioning them will help your resume get the extra attention that it needs. This is because acquiring a certification is seen as an effort that you have made to enhance your skill set, something which is greatly appreciated by employers. Not only will your increased skills help you stand out, but the motivation and desire to learn that it reflects will create a great impression. However, keep in mind that only the relevant certifications should be made a part of your resume.
Read More: INFOGRAPHIC – Important Things to Put on Your IT Resume >>
Read More: In IT, You Still Need Soft Skills >>
Read More: If you are In IT, Do this to your Linked in Profile >>
Read More: Top Resume Tips for IT Professionals >>
4.      Keep it Concise & Simple
Many people use various formatting techniques in an attempt to distinguish their resume. If you wish to show your design skills, your resume is not the right place. Employers want the resume to look professional and will hence prefer a resume that is simpler and easy to read. Also, it is tempting for candidates to list down every single experience that they have had, but in reality, it is better to use strong, concise words to communicate the message.
5.      Mention Accomplishments
Writing lengthy job descriptions of your last job is something that you should refrain from doing if you want to create a good impression. This is because the employer will be interested in knowing what you have accomplished during your tenure rather than what you were responsible for.
6.      Forget the Objective Section
When structuring your resume, it is important to save as much space as you can for the skills section. This is the reason why it is recommended to ditch the 'objectives' section in your resume. Employers rarely want to know why you wish to become a part of the company. On the other hand, they will be more interested in knowing how you can prove valuable to the business. Hence, choose the space wisely.
7.      Do not make it too technical
Often tech professionals will make their resume look too technical in an attempt to impress the readers. However, it is advisable to keep a balance and incorporate only the technical details that are necessary. This is because your resume will be reviewed by many people and the HR might not be very well versed in technical jargon.
8.      Be Honest
Lying or misstating facts on your resume is a serious offense and should be avoided at all costs. Being honest about your work experience and your skills will help you find the role that is considered right for you and will prevent you from facing embarrassment in the future.
9.      Litmus Test
Once you have incorporated all the -tips mentioned above, it is important to evaluate the impact that your resume makes. One way of doing this is by handing you resume for ten seconds to someone and then asking them to tell you what you are good at. If they get it right, your resume serves the purpose.
Conclusion
While companies are increasingly looking to hire IT professionals it is important that you create a resume that will stand out amongst the others. By incorporating the steps mentioned above, you can create a resume that creates a great impact on the employers and gets you the attention that you need.
Decide Consulting provides IT staffing services. Our conclusive hiring methodology enables us to bring the best IT problem solvers to your organization. Our entire management team comes from an IT technical background giving us a unique perspective on candidates and the industry.