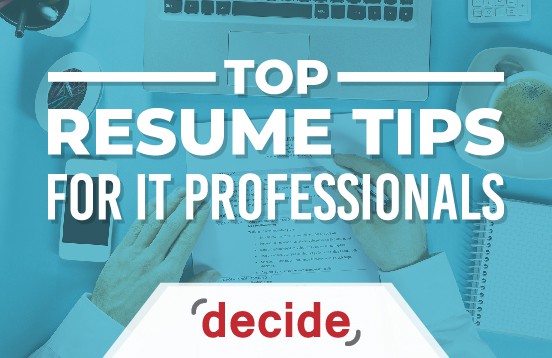 When you are applying for jobs, your resume is your first impression on your to-be employers. In professional environments, orderliness is not just a personal trait but a skill and is given a lot of weight. This same orderliness has to be a part of your resume too, especially if you are applying for a technical job as an IT professional. Here are some tips to help you write an effective resume for an IT position.
Read More: What IT Managers Are Looking For When They Google You Before Hiring You >>
Read More: What Employers Want – In Demand Tech Skills in 2017 >>
Read More: Top 5 IT Cyber Security Certifications with the Greatest ROI >>
Read More: Important Things to Put on Your IT Resume >>
Tips for an Impressive Resume of an IT Professional
There is nothing wrong in having multiple pages of your resume. People often believe a one-page resume is a standard, but there is nothing wrong with a 2-page resume.
Employers don't want to know your "responsibilities" of your previous jobs. What they are interested in are your achievements and skills. Make sure to give at least 1/3 part of the first page to your skills and achievements.
Do not just describe your skills – it's likely that the interviewer is not interested in reading paragraphs. The best way to highlight your skills is to use a logical grouping of the skills, e.g., networking, languages, operating systems, front end SW, etc.
Experience and skills beat everything—even education at times. However, if you have obtained your degrees and certifications from well-known universities and institutions, only then bring them to the first page.
People use clichéd and copied objectives on their resumes. Hence employers don't pay much attention to them. If you still have to put your objective on the CV, keep it short and job-specific. Avoid using generic objectives.
Since IT is all about practical work and experience, it is best to put your biggest and most important projects on page one. Dedicate at least ¼ part of your first page to these projects. Mention the projects you have completed in past three years on the first page. If there are more yet unimportant projects, move them to page second.
When listing your technical skills, start with the ones that you are best at. Or you could choose to start with the ones that are most relevant to the job position you are applying for.
Avoid mentioning your interests on your resume. They occupy space and don't play any role in convincing employers to hire you. However, if you have some interests that are directly relevant to your job, field, and profession, use a small bit of space to mention them.
And just to remind you again, there is nothing wrong in writing a multi-page resume. Attempting to cram all your previous experiences and completed projects on one page can turn your resume into a cluttered mess.

Decide Consulting is a software and IT Staffing firm based in Houston, TX. Founded by veteran software consultants, Decide has developed proprietary methods for finding problem-solving IT personnel. Our Software products focus on the Environmental Health & Safety (EHS) and Healthcare markets.