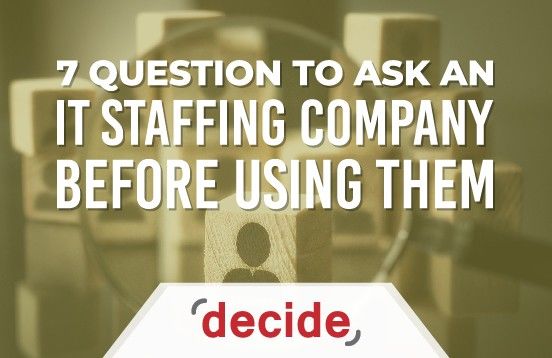 Information technology is the driving factor of innovation and innovation the pathway to business success. Regardless of the size of your enterprise, technology has both tangible and intangible benefits that will yield you money and produce the results your customers expect of you. Now more than ever, organizations are hiring IT employees or teams through IT staffing agencies to help address their technical needs. This investment can be significant. Companies need to be careful selecting an IT staffing company. The following 7 questions will help you make the best possible decision.
Read More: 4 Good Reason to use an IT Staffing Company >>
Read More: What It Is Like Being An IT Recruiter >>
Read More: When Do You Need to Work with an IT Staffing Firm? >>
Read More: Case Study Regional Bank >>
How long have you been in business? Like other industries, the IT service industry also has its fair share of unethical or incompetent businesses that will try to take advantage of business owners who don't know any better. Asking this question will help you determine the staffing company's competency and reliability.
What local companies have you worked for? Asking this question can give you a good idea of the staffing company's popularity and work portfolio. Furthermore, you can contact one or more of those local companies and request them to provide their honest feedback about the IT staffing company of your choice.
Have you searched for this type of role before? This will help you determine if they are really suitable for the job tasks that you require of them, or do they specialize in something different.
What are your fees? The IT staffing company of your choice should charge around 20% of the candidate's salary. They should also be willing to spread the payments out. However, fees can vary depending on the salary and the agency.
Is there anything wrong with our job description? See if the company can offer an IT employee or team that can provide you exactly what you are looking for. If you are looking for a certain skill set in an employee and the staffing agency isn't able to deliver that, they should let you know right away.
Where are your recruiters located? You want to be dealing with local recruiters, not those located inconveniently far away from you.
What tools / processes do your recruiters use? The whole idea behind using an IT staffing company is to save time and money, so make sure the company of your choice is using efficient tools and unique process that will yield excellent results.

Decide Consulting is a software and IT Staffing firm based in Houston, TX. Founded by veteran software consultants, Decide has developed proprietary methods for finding problem-solving IT personnel. Our Software products focus on the Environmental Health & Safety (EHS) and Healthcare markets.