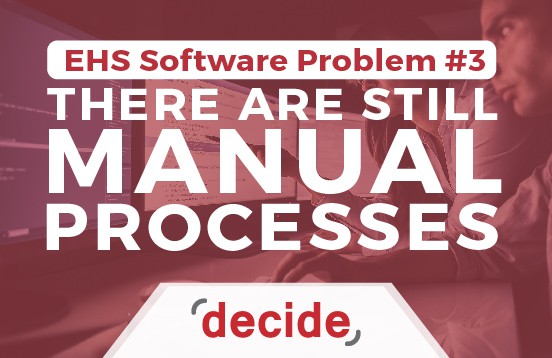 In our work with companies implementing or changing their EHS Software, we often hear this quote or a variation of it:
"We have millions of dollars invested in EHS Software, but so much of our data about incidents is still in spreadsheets and email attachments"
Here is the typical scenario: A company invests millions of dollars in an EHS software package. This includes license fees, training, setup, configuration and change management. A lot of time and effort were invested by employees and high priced consultants. Rollout and adoption were a bit rocky. Now you have had the system in place for a couple of years. It is being used by the workforce. You are getting good metrics. It supports your corporate reporting. But this is what we often find at this point in the software lifecycle:
Read More: Reasons you need DecisionEHS >>
Read More: EHS Process Audit Review >>
Read More: EHS Software Selection >>
Read More: EHS Software – Questions to Ask >>
Processes change. Whether it is a new regulation, people changing jobs, change of products… your processes are constantly evolving.
Not every process makes it into the EHS software on day one. Inevitably, something gets left out with the intention of "getting to it later". Some of these processes often include:
Government Interactions
Facility Audits
MOC (Management of Change)
Electronic Permit to Work
Job Safety Analysis
Behavior Based Safety Audits
Many other daily processes that are currently tracked on paper or that legacy system from the 90s
Plants, refineries and locations are bought and sold.
New processes come and old ones leave.
New systems are introduced to the mix and either need to be migrated in or interfaced
Many companies want to update the EHS processes, but get hit with a $150K price tag from the EHS software company to make seemingly simple changes. The processes still need to be tracked. The inevitable answer is people start tracking things in excel and emailing the spreadsheets or storing them in SharePoint. Once your workforce starts developing "shadow systems" to track the "real" process, you have lost the ability to truly track your processes at the corporate level.
We get things have to be tracked, but what type of risk exposure is there when 60% of the data is in the EHS software and 40% of it is in "who knows where".
Your organization is not alone if you are experiencing this. Our clients range from the largest oil companies to mid-tier refineries. They all experience this challenge to some degree and it is a problem.
We have helped companies find low-cost solutions for the manual process problem. We do this by improving their EHS software. Contact us to find out more.
Decide Consulting is a software and IT Staffing firm based in Houston, TX. Founded by veteran software consultants, Decide has developed proprietary methods for finding problem-solving IT personnel. Our Software products focus on the Environmental Health & Safety (EHS) and Healthcare markets.