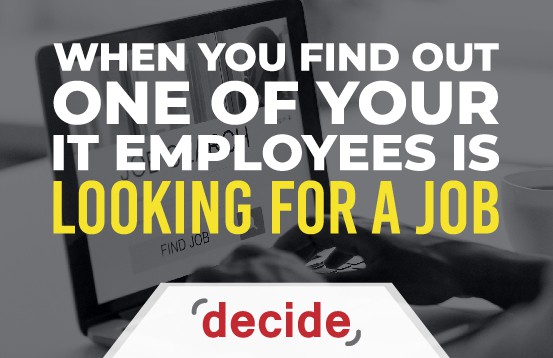 It's a devastating revelation to find out that one of your most valuable IT resources is looking for a new job. Even though It revolves around your professional life, it feels a little personal, but that's the last way you want to deal with the situation. How you respond to the situation then approach your employee will have an impact on future recruitment and company performance so be wise.
Schedule A Meeting
It's mandatory that a conversation about a topic as sensitive as resigning should be done in person. Despite the professional environment, there's too much emotion involved to just exchange emails. Check your schedule to fix a time slot for the meeting that will allow it to be free of disturbances. This allows you to give them your undivided attention.
Plan For It
If you're holding a meeting with your IT employee, make sure you plan for it. Expect to hear them say anything, no matter how unprofessional it sounds. Prepare some questions you may want to ask them about their experience(if they don't say enough).
Listen To Them
Listen to what they have to say regarding them leaving. Ask them if they have any other grievances or complaints that they would want to share. Patiently listen to them if they do, and acknowledge them to improve conditions and reduce rates of future turnover. Casually ask them about any offers they've received as of yet. Listen carefully as to get a better insight of what they want.
Be Honest
An IT employee's period of employment should prove as a learning experience for them and their employer. Take this time to help them understand the corporate reasons for the cause of some complaints, like not getting a raise. Be honest about any views you had about them or their quality of work. Let them know of any complaints against them to help them improve future work prospects.
Decide If You Want To Keep Them
After listening to your IT employee and learning of the problems they may have with the work environment or other factors, take a moment to consider their value in the organization. If you may not feel a loss of them leaving, it's best to be grateful that they worked for as long as they did and thank them for any feedback that they gave you. In the circumstances that they are one of the most resourceful assets to the company, make an effort to compete what they're being offered, if it is corporately possible. Try to make them understand the benefits of staying with you and not having to start fresh somewhere else.
Read More: How to Keep and Attract the Top Tech Talent >>
Read More: These 5 IT hires can cost you over a Million Dollars >>
Read More: 5 Big IT Hiring Mistakes Employers Make and How to Avoid Them >>
Read More: Ways You Can Find Great Tech Talent >>
Decide Consulting is a software and IT Staffing firm based in Houston, TX. Founded by veteran software consultants, Decide has developed proprietary methods for finding problem-solving IT personnel. Our Software products focus on the Environmental Health & Safety (EHS) and Healthcare markets.